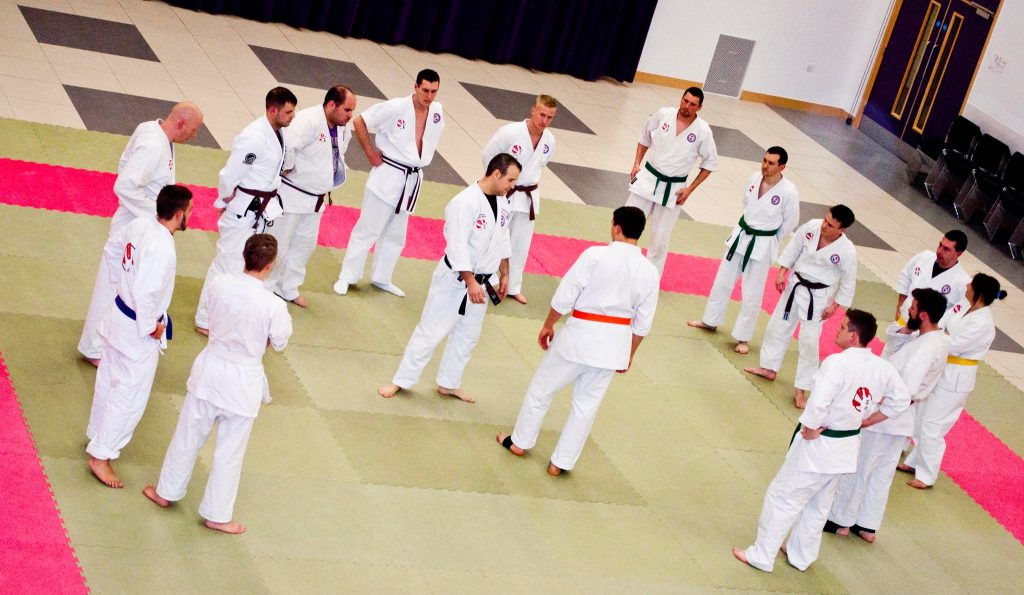 Students and enthusiasts of Ju-Jitsu have many reasons for their interest in this and other martial art styles. Some are drawn to the physical fitness and weight-loss aspects of training. Others seek to add discipline and self control to their lives. While still others are concerned about safety and self-defence. Whether you are interested in our programs for mental or physical well being, The British Ju Jitsu Association GB National Governing Body offers a number of programs that will fit your developmental needs and your busy schedule as well.
Coaching Course
The National Governing Body coaching course is a recognised qualification developed with sport England. The course comprises of distant learning modules, then one or two day practical and theory exams dependent on the level taken. The courses are run a few times of the year at various locations as demand requires.
All instructors teaching, whether club runners or part time coaches, teaching adults and juniors in any recognised club under the BJJAGB must have this qualification. The BJJAGB has a zero tolerance to any member disregarding this. By enforcing this, the BJJAGB are confident that clubs are run with high quality methods and the protection and safety of all students entering the dojo is maintained.
| | | | |
| --- | --- | --- | --- |
| Level | Type | Level Open To: | Length of Course |
| 1 | Novice Coach | Purple Belt or above | One Day Course |
| 2 | Assistant Coach | Brown Belt or above | One Day Course |
| 3 | Coach | 1st Dan or above | Two Day Course |
| 4 | Senior Coach | 3rd Dan or above | Two Day Course |
Referee Courses
Certified referee courses are run annually and allows members to referee and judge at all National competitions within the UK and internationally. (BJJAGB competitions and United Nations of Ju-Jitsu competitions).
Training Centre/Dojo Accreditation
The BJJAGB exists not only to regulate Ju-Jitsu in Great Britain but to benefit its member Clubs and Associations which teach this art to their students and provide the best service and support available to each and every member of those clubs and associations and to their instructors, by making sure that everything which can be done for Ji-Jitsukas is being done for the benefit of all practitioners of this ancient martial-art. All BJJAGB registered dojo/training schools will receive an "Accredited Training Centre" certificate from the Governing Body, to be displayed at each training venue and every student member will, on the award of a Ju-Jitsu DAN black belt-grade, be issued with a "National Governing Body Registration" certificate.
Competitions
All competitions arranged by the BJJA(GB) are designed to follow rules and regulations which safe-guard the welfare of the students taking part in them. SAFETY FIRST!
Rule Books are available for all competitions at £10.00 each.
Continuous Fighting
Empty Handed Kata
Weapons Kata
Random Attack
Pairs Demonstration: Empty Handed
Pairs Demonstration: With Weapons
Team Demonstration
The British Ju Jitsu Association GB is one of the largest Ju-Jitsu organisations in Great Britain and has been serving the British Ju-Jitsu community since 1956. There are many benefits to joining the B.J.J.A.GB:
Free National and International Programs for Technical, Philosophical and Leadership Development in Ju-Jitsu.
A National and International Network of Ju-Jitsuka.
A comprehensive Insurance Program.
"Highest Quality" Ju-Jitsu Rank and Membership Certificates for the B.J.J.A.GB Members.
Written GB Ju-Jitsu Rank Requirements for all B.J.J.A.GB members.
Fair Promotion System for all GB Ju-Jitsuka.
Technical, Administrative & Communication Assistance for Students and Instructors in Ju-Jitsu.
Internationally Standardized Competition Rules for both "Free Fighting" and "Self-Defense Style" Competition. (Note: These are the same "Rules" that are currently being used in the Pan British Games, The World Games, the JJIF World Championships and will be used for Olympic Ju-Jitsu!)
National & International Referee Training and Certification.
Instructor/Examiner Certification.
Coaching Training and Certification.
Referee Certification.
A National Headquarters with "decentralized" Ju-Jitsu Programs and Leadership.
The development of a National Ju-Jitsu Institute for expert training in both Traditional and Competitive Ju-Jitsu.
Local, Regional, National and International Competition Programs and Events for all members of B.J.J.A.GB.
Membership Fees for Individuals : Annual Membership: Annual Insurance Fee: (mandatory for all members).
Life Membership: B.J.J.A.GB Rank Certification and Promotion Fees for Kyu Ranks.